RELEASE OUTSTANDING
Applications
Release
IN PROGRESS Manifest

IN PROGRESS Build scripts

Test

DONE javadoc
Querying
Grammar updates: Proximity(DONE), Terms anything except space

DONE Proximity/Phrase

DONE Filter/Resultset sorted different way

DONE ResultSet cropping refined

LMMatching et al
Indexing
DONE Strip down a copy of TRECDocument into HTMLDocument
CORE
1.0
Encode File location or DocID in Direct Index (to allow Interactive QE?)- Vassilis DONE

Document/Query/HTML tags - DONE

Heirarchy of Inverted and Direct Index data structures DONE

Breaking up match() in Matching to allow more genericism. DONE

Tidying up applications - this will allow us to see how easy and applicable "Skipper" is DONE

Blacklist of DocumentIDs to ignore during indexing - Hashset of Document ID. DONE

Indexing API Design and Implementation DONE

Generic document indexing interface TREC, PDF, WinWord, Excel, PPT, HTML DONE

Querying API Design and Integration, including +/-, & Fields support DONE
1.1 +
Generic stemming interface support, ie from Snowball

Thread safety

Lexicon improvement

Querying API doesn't support term expansion by the term pipeline, ie 1 term morphing into more than 1 term (example abbreviation expander)

Exceptions for Terrier: eg TerrierIndexingException TerrierQueryingException
QUERYING API
Changes:
SearchRequest needs to be moved into line with structures.Query - ie use TreeTermNode[] for representation of query?

structures.Query will be deprecated.

structures.TRECQuery generates SearchRequests
SEARCH ENGINE INTERFACE
More efficient URL server implementation

Use JavaCC to create a fast query parser

Document fields support (named in config file ietitle, url, linking anchors?)

Non-linear document sets (ie Similar Pages), where the [next] results from the same directory as that result are listed.)
INDEXING DESIGN
Terrier Indexing architecture rough diagram: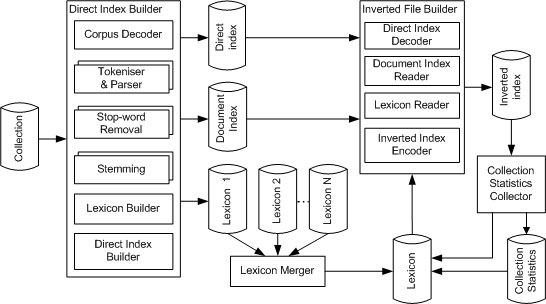 The current indexing architecture is very tied towards indexing TREC and other test collections (ie in the above diagram, "Corpus decodor" is handled by the same code described as "Tokeniser & parser" - in particular, the parsing of 1 collection file is too closely tied to the parsing of a document. The planned changes to the indexing process should allow other collections of documents to be indexed. Examples would be indexing from a database; indexing file from the filesystem; indexing from a 3rd party API, eg a POP3 or IMAP server etc.
General outline of thoughts:
Interfaces
These are the current designs as they stand atm. Where Option1 and Option2 are mentioned, we are undecided about how to construct the API - this mainly relates about the boundary between Document and Indexer, and how stemming & stopping should be involved.
Collection: represents a collection.

examples: TRECCollection, SQLCollection, FileCollection, POP3Collection, IMAPCollection etc etc

methods: boolean endOfCollection(); Document nextDocument(); String docid(); void reset();

Document: represents a document of a collection

Indexer: uses a Collection to get each Document, extracts Terms, Stops and Stems them

examples: BasicIndexer, BlockIndexer

methods: void buildDirect(); void buildInverted();

Uses a list of named Fields from properties file, to note which fields a term belongs to. This named list can then be used at query time to check to see if the required term exists in that field. Example: Query(intitle:"index of" mp3)

Passes terms to a TermPipeline which would peform stopping and stemming (and other options, eg translation)
PreIndexing phase support
Allow phases prior to and after indexing to occur in Java, rather than Perl/Bash scripts. Example - Adding Anchor texts to collection: preIndexing phase
extract links

scans collection

builds up URL=>DOCID

URL=>[Anchors]

add links

Transform URL=>[Anchors] into DOCID=>[Anchors]

alters/builds new collection
Other post-indexing phases may also exist, so perhaps we should be generalising this and providing a Runnable like interface. eg run(ApplicationSetup, Collection) and run(DirectIndex, Lexicon, InvertedIndex)
Querying architecture
Terrier querying architecture rough diagram: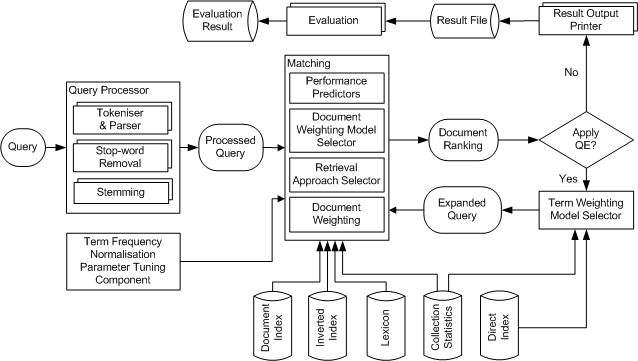 ---